Kathmandu, the capital city of Nepal is famous for artistic historical structure and lifestyles. So, Kathmandu is also known as a city of temples. Sightseeing around world heritage sites in Kathmandu, Bhaktapur, and Lalitpur is a completely new experience. Heritage sites include Durbar Square, the house of living Hindu goddess known as "Living Kumari", Swayambhunath mostly known as "Monkey Temple", Boudhanath Stupa, Pashupatinath temple and many more.
Not only the sightseeing, but there are a lot more to explore in Kathmandu Valley. Here are the best things to do in Kathmandu which includes heritage, architecture, culture, food, and shopping.
1.Explore World Heritage sites
UNESCO identified World Heritage Sites as places that belong to all the peoples of the world. Nepal has 4 properties inscribed on the World Heritage lists.
You will explore historical and spiritual attractions including Durbar Square, houses of living goddess called Kumari House, Swayanbhunath, Baudha Nath Stupa, Pashupatinath Temple and many more
Pashupatinath Temple is one of the oldest Hindu temple situated in the bank of Bagmati river. Pashupatinath Temple is one of the largest Hindu temples of god Shiva. Yearly thousands of pilgrimage around the world come to visit Pashupatinath.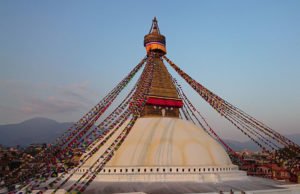 Boudhanath Stupa is one of the largest stupas in the world. Baudhanath is an important place of Tibetan Buddhism and culture, as well as being a UNESCO World Heritage Site. Don't miss observing gracefully decorated with vibrant murals monasteries around Boudhanath.
Swayambhunath temple also called monkey temple is located in the top hill in the west of Kathmandu valley. It is one of the old religious places where ye can see the brotherhood of the religion between Buddhist and Hindus.
One of the first things you will notice is lots of monkeys roaming around the temple premises. You can observe almost half of Kathmandu city from Swayembhunath.
Bhaktapur Durbar Square is one of the highly visited sites in the Kathmandu Valley. It consists of at least four distinct squares (Durbar Square, Taumadhi Square, Dattatreya Square, and Pottery Square), the whole area is informally known as the Bhaktapur Durbar Square.
Kathmandu Durbar Square is the ancient old square at Basantapr. This is the place where the royal family lived until the 19th century. It is one of the World Heritage Sites of Nepal and it is famous for quadrangles, revealing courtyards and artistic temples.  It is known as Hanuman Dhoka Durbar Square as there is a statue of Hanuman, the monkey devotee of Lord Ram, at the entrance of the palace. This is the place that you should not miss out.
2. Shopping in Thamel
Thamel is tourist district of Kathmandu valley. It is perpetuated by the rows of Tibetan prayer flags and rickshaws (small three wheelers cycle)
The streets of Thamel are lined with shops overflowing with Thanka Paintings, Wood Carvings, Bronze Statues, Melodious music, Books, Typical Nepali, and Tibetan Clothing and jewelry. You can have multiple choice of Nepali artistic presents from Thamel. Also, have a cup of fresh coffee, somewhere around.
3. Hiking to Shivapuri
Shivapur offers the admirable view of Langtang range, Kathmandu valley, and surroundings. Shivapuri hiking is one-day hiking from close to Kathmandu. It starts from the Shivapuri National Park where you observe Nagi Gumpa on the way up. It is the continual climb up to the top of the Shivapuri Hill where you see the origin of the Bagmati River known as Bagdwar.
The Sivapuri Hills (2732) offers you fantastic views of the panoramic Langtang sceneries. This is the best one-day hiking you can do for one day in Kathmandu.
4. Try out MO: MOs
Mo: Mo is the primary snacks in Nepal. Momo is a type of steamed/fried dumpling with some form of filling. Momo has become a traditional delicacy in Nepal, Tibet and among Nepalese/Tibetan communities around the world. This new dish is definitely worth trying while you are in Nepal.